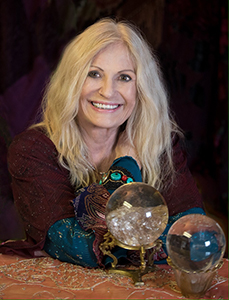 Share Starwas is a highly respected professional psychic and teacher well known for her clear, direct approach and accurate predictive readings.
Share's excellent reputation is based on her gifted sensitivity, years of study and experience, and on her high standard of integrity. All of her clients receive a 100% money back guarantee.
Share offers individual and group readings in private homes, corporate and private parties, and private readings in her office in Highland California, and at events in the United States and Europe. For those at a distance, Share offers telephone readings, mail readings, and email readings. Find out more about Share's readings and upcoming events where you can consult with Share.
teaching and lectures
Share teaches a variety of subjects including Tarot, Magik, and Scrying. Read more about Share's workshops in California and elsewhere.
about Share
Share is featured in numerous newspaper and magazine articles, and she makes guest appearances on television and radio. Share maintains her private practice in the United States and Europe. Read about the making of a psychic to find out more about Share.
Watch Share's interview, Confessions of a Psychic, on the Open Mind Show.